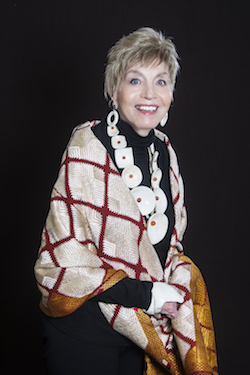 Eleanor Abraham is a dealer who has specialized in Indian, Himalayan, and Southeast Asian stone and bronze sculpture since 1980. While beginning her career in Southeast Asia in 1967, she became enamored with Buddhist Art and began to carefully collect. This initiated extensive research and study of the subject while she continued to routinely travel to India, the Himalayas, and Southeast Asia.

As flight staff for Pan American World Airways her position was to travel. She also traveled unceasingly on personal time to learn the art, history, and cultures of the entire world. Her passion and respect was for the 3rd world. Her goal was to socialize with the local people. To truly understand the people she oftentimes embarked on trips of 30 hours by train and bus (frequently traveling by horseback and donkey in her determination to learn cultures). Her appreciation of Buddhism enabled her to endure the strenuous trips. She always returned to Asia where she rebounded by collecting Buddhist sculpture.

In the late 1970′s she developed a friendship/business relationship with the late, internationally renowned dealer in the field, William H. Wolff. The New York Times quote, December 20, 1991, "Mr. Wolff was considered by academics, museum curators and wealthy collectors as the nation′ top dealer of Asian antiques." Occasionally, Eleanor sold her sculptures through ″Willie″ and that enabled her progression to full-time dealer. Mr. Wolff died in 1991.

She has placed important objects with major museums and assisted with the development of numerous private collections. Her field has expanded and now includes distinctive antique tribal jewelry and finely detailed textiles. Eleanor previously ran a public gallery on East 57th Street, New York City. She participates in Asian Art Antique Fairs and now deals privately by appointment.